PremiumAuto 125 – Automatic cavity slider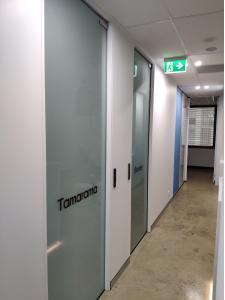 Are you looking for a reliable and cost-efficient solution for your commercial sliding doors? Look no further than PremiumAuto 125 Sliding Doors.
Our products are the ideal combination of style, design, and mechanics, incorporating high technology and performance with exceptional design accuracy, quality workmanship, heat preservation, dustproofing, windproofing, and stable performance. With concise and practical features, our automatic sliding doors are perfect for banks, shopping centers, hotels, office buildings, and many other commercial spaces.
Our system offers remote access for diagnostics and monitoring of the operational status of the sliding door motor, providing you with peace of mind knowing that you can always stay connected to your system.
PremiumAuto 125 System can be integrated with smart home automation systems such as C-bus, making it easy for you to control your sliding doors remotely. Our sliding door configurations include single, double, corner meeting, jamb details, architrave, square set (Ezy Jamb finish), and shadow line. Our automatic sliding doors are suitable for aluminum doors, frameless glass doors, and timber doors (solid, hollow, and MDF).
Our "Low-Energy Mode" and plug-and-go (230 V standard power supply) options help to make our automatic sliding doors an efficient and user-friendly solution. The locking function adds an extra layer of security to your commercial space.
With PremiumAuto 125 Sliding Doors, you can expect exceptional quality, reliable performance, and superior design. Contact us today to learn more about our automatic sliding door systems and how they can benefit your business.